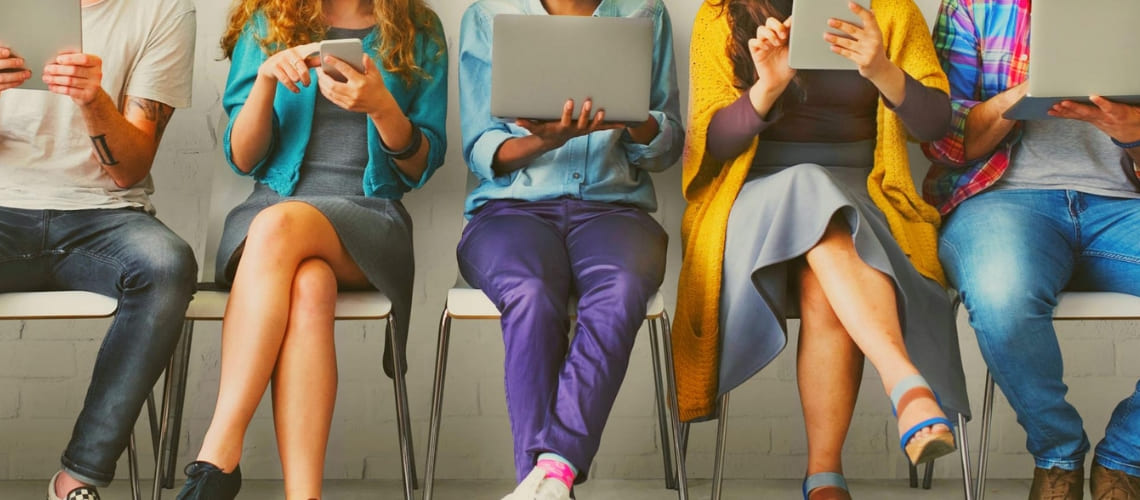 Digital People Are Real People
At the ABID Conference, Alyssa Wolf, Owner of Red Wolf Imports, describes how she made social media a cornerstone of her company's marketing strategy.
13/07/2018
One of the most difficult issues for a small importer or distributor is simply getting market attention for your wines or spirits. That's especially true if you are launching a new import business, and do not yet have a reputation in the marketplace. One solution to this problem is social media.
At the ABID Conference in New York, Alyssa Wolf, Owner of Red Wolf Imports, describes how she made social media a cornerstone of her company's marketing strategy. This strategy is built around the concept of curating wines from under-represented wine regions around the world and then selling them to the next generation of fine wine drinkers.
The three components of a successful social media strategy
The best part about social media, says Wolf, is that it is relatively low-cost and low-risk. There is significant time investment involved, of course, but the payoff is well worth it. As Wolf explains, social media offers direct access to people looking to make connections. The key, of course, is turning those digital connections into real-world connections.
To make this social media strategy a reality, says Wolf, there are three important factors to keep in mind:
Find people you want to connect with

Give them a reason to talk to you

Interact with people you want to connect with
The important point to keep in mind is that all three of these factors have to work together in order to deliver the greatest value. The goal of social media should be to foster the types of real-world connections that will grow your business and boost overall sales. Often, the people you start off meeting on social media can turn into future partners or customers.
Find people to connect with
At the outset, it is helpful to consider which type of audience you are trying to reach with social media. For example, if you are an import business, you might be trying to reach restaurants or retail locations that will eventually sell your wines. Or you might instead try to reach bloggers, social media influencers, or members of the media: all of these can help to propel your business forward by spreading word-of-mouth buzz about your wines. Certain social media platforms - and especially Instagram - have now turned into very powerful influencer platforms, where just a single link or share can lead to your content being seen by thousands of people.
In finding the right people to connect with, you have several valuable tools at your disposal, including the use of hashtags. Wolf advises that generic hashtags like #wine might be too general to work effectively, but a more specific hashtag tied to a particular group of people, venue or event might be very effective. Hashtags are so important, says Wolf, because they allow you to join conversations taking place online. Another popular tool is a location tag, which enables you to connect with people within your specific geographic region.
Give people a reason to talk to you
Of course, there is some social media content that works better than others in terms of building an audience. Your goal, says Wolf, is to post content that is valuable to others. Her personal preference is to use Instagram, Facebook or Twitter, and all of these have developed into very visual platforms - so it's important to be able to post plenty of photos and videos. In order to be valuable, your content cannot just be an advertisement for your wine. For example, it's far better to take beautiful photos of a local wine region as a way to educate people about certain wines than it is to just post perfect photos of bottles of wine in your portfolio.
It's also important, says Wolf, to stay on-brand. Thus, if you are positioning your wines as a premium, high-end product, you will need to make sure that your Instagram feed also looks premium and high-end. Take a second to think about what your company stands for, and what makes it unique. Then use that strategic positioning to think about the best types of photos and videos that can help to bring that strategic positioning to life.
Interact with people you want to connect with
Once you have decided on your core audience and developed a strategic approach to posting content, the next step is to connect online with like-minded people. This means commenting on other posts, responding to others, liking content and sharing. You might just be surprised at where all that activity leads.
Wolf, for example, points to the example of a wine bar that might notice the fact that you are interacting with them online on a regular basis, and then decide to check out some of your wines. Another example is a wine critic who comes across your social media posts and decides to ask you for a sample in order to write a review. In one case, says Wolf, a campaign of regular liking, commenting and posting led to landing a large account in the Washington, D.C. area.
Social media best practices
One caveat that Wolf mentions is the need to use time wisely. There are plenty of other factors that go into running a successful import or distribution business, and if you are spending hours a day on Twitter or Instagram, you likely are not using your time most productively. That being said, says Wolf, there are plenty of ways work social media into your daily activity. For example, if you are commuting by train each day – that might be a convenient time to respond to people on social media. And there are ways to schedule social media content in advance so that you can automate much of the process.
If done well, social media can be a way to grow sales, land new accounts, and provide a much deeper and wider network for your import or distribution business. You never know when you interact with someone online who they might be - the person who just left a comment on your Instagram photo might be your next big customer.
Overall, the two-day ABID Conference in New York City provided a detailed, comprehensive, and eye-opening approach to the U.S. import and distribution business. Participants walked away with real, actionable steps on how to grow their business and optimize its future profitability.
2020 ABID super early bird offer is now on! The event is on May 26-27, 2020 in New York. Register here to book your seats at the lowest price. Offer ends August 31, 2019.